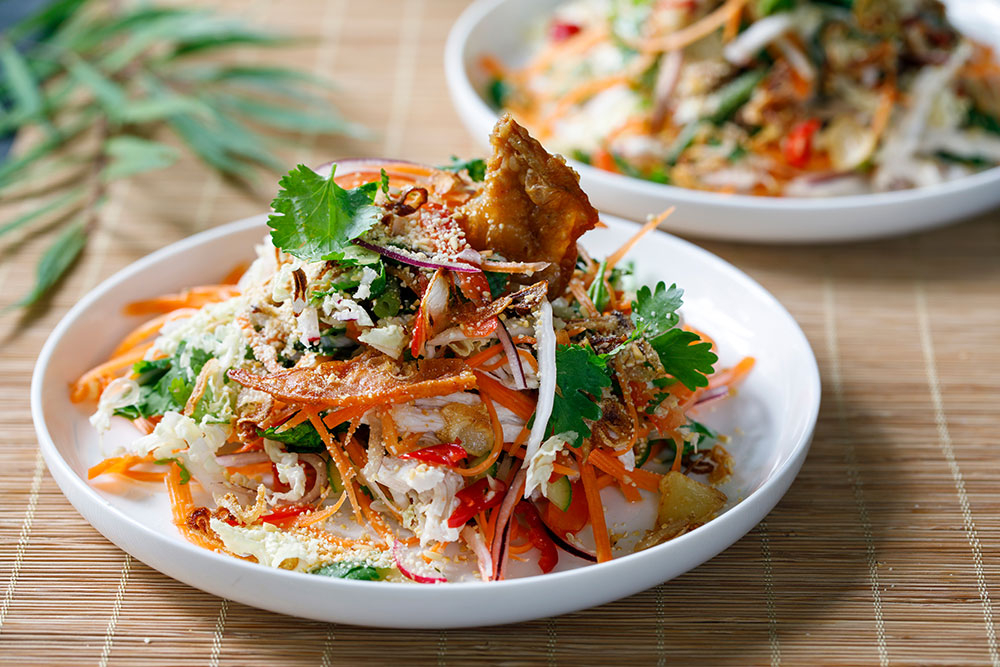 Zesty Thai Chicken Salad
2 chicken (whole breasts)
1 bunch spring onions (chopped)
2 carrots (large, julienned)
4 cups cabbage (shredded)
2 capsicum (bell pepper) (any colour, julienned)
1 cup macadamia nuts (chopped)
½ cup basil (fresh)
1 cup coriander leaves (optional)
2 tbsp oil/fat
4 radish (finely sliced)
DRESSING
¾ cup apple cider vinegar
1 cup sesame oil
¼ cup coconut aminos
1 lime (juiced)
2 tbsp garlic (crushed)
¼ cup fresh ginger (finely chopped)
STEP 1: Preheat oven to 180ºC. Season the chicken on both sides. Add the oil/fat to a heavy frying pan and heat to medium/high.
STEP 2: Sear the chicken for about 4 minutes on each side, then place in the oven to bake for an additional 15 minutes.
STEP 3: While the chicken is cooking in the oven, prepare your salad. In a large bowl, combine the cabbage, carrots, capsicum, radishes and onions. Toss together.
STEP 4: Then whisk together the dressing ingredients (apple cider vinegar, sesame oil, coconut aminos, lime juice, garlic and ginger).
STEP 5: Take the chicken out of the oven and leave it to rest for 5 minutes before slicing it into strips and placing them on top of the salad. Pour the dressing over top and sprinkle with the chopped macadamias and fresh herbs.